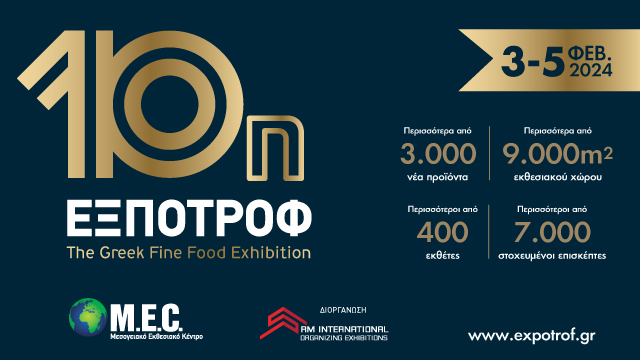 The exhibition that has become synonymous with the promotion of premium Greek products returns for the 10th consecutive year with an anniversary event. In just ten years, EXPOTROF has become the essential meeting point for Greek and foreign decision makers of the industry, who are interested in premium products, while
● It has presented more than 20,000 new products
● It has covered more than 60.000m2 of exhibition space
● It has welcomed more than 100,000 thousand visitors
Remaining faithful to domestic products and their promotion through innovative proposals and rich gastronomic events, EXPOTROF – THE GREEK FINE FOOD EXHIBITION welcomes from Saturday 03 to Monday 05 February 2024 more than 400 producers of premium products participating exclusively in the exhibition, as well as business representatives from the retail, catering, tourism and hotel sectors for a three-day event full of commercial agreements.
Greek gastronomy will play a leading role in the 10th EXPOTROF, while there will be no shortage of entries from abroad, which will be presented in a special section, giving Greek producers the opportunity for direct commercial contacts. At the same time, selected buyers from countries such as Dubai, Romania, Poland, Italy, the Arab Emirates, Cyprus and of course Greek businesses will participate in the specially designed Buyers Square area, wishing to get to know unique Greek products and conclude trade agreements.
Through a wide range of high quality products, such as fine wines, cheese products, brewery products, bee products, olive oil, organic products, and many other culinary treasures, visitors will have the opportunity to get to know unique products and their producers. A further series of culinary events and professional seminars will take place during all three days. Chef Kostas Bougiouris will welcome distinguished chefs in the popular "Cooking Greece" section, producers will introduce visitors to the secrets of winemaking, brewing and mixology at the Drink & Spirits event, while the specialized seminars and workshops, Food Expert Stories, will inform industry professionals about all the latest culinary trends and practices.
Finally, in the context of EXPOTROF – THE GREEK FINE FOOD EXHIBITION, the Athens Fine Food Awards (AFFA) 2024 quality and taste awards will be presented, which evaluate Greek food through a blind tasting process.